Joe Pasternak produced the first 10 Deanna Durbin movies.
Joe Pasternak was an immigrant boy from Hungary, one of the family of eleven children who were supported frugally by the bookkeeper father. When Pasternak was 17 years old, the family finances were further complicated. World War One had come to an end, and in the rush of soldiers to civillian life the father was thrown out of work.
Young Joseph was sent to America in the steerage class to relieve the strain. Because his uncle lived in Philadelphia, young Joe went there, and his first job was in a belt factory, punching holes in leather belts. For each gross of belts he punched, young Joe received six cents. He worked with enthusiasm. At the end of the first week he had earned $11. It was a lot of money for a boy who had seen the privations and starvations visited upon Hungary during and after the War. From then on, Pasternak took on a succession of various jobs. In New York, he was employed to pluck chickens in a wholesale butcher shop. He got five cents a chicken. He plucked them as fast as he could until his hands became so numb that he could hardly move his fingers. Then he quit, and this time he found a more congenial post as a busboy in a cafeteria in the Roaring Forties.
For eight solid months, Pasternak collected $12 a week, and saved enough money to study for the stage. Motion pictures then were being produced in the east at the Long Island studios of Paramount, so Pasternak, inflamed by the idea of a dramatic career, determined to get a job there and he did. He became a busboy at the Paramount commissary for $15 a week. After three months the ambitious youngster was promoted and became a waiter. At last he was in his element. He was the contact man between the kitchen and the great names of the movie screens.
The first time he served Gloria Swanson he dropped a salad and it just missed landing in her lap. Allan Dwan, who was directing the Swanson pictures, took an interest in the ambitious young waiter. Within the year Pasternak was acting as Dwan's first assistant for $45 a week. It was too good to be true. Paramount closed the Long Island studios. Like so many others with a dream, Pasternak travelled to Hollywood, but there was nothing for him. He had little money left. He made a two-reel comedy with El Brendel, and director Wesley Ruggles was so impressed with Pasternak's work on a limited budget that he engaged him as his assistant at Universal.
In 1926, Universal opened a production unit in Germany, Deutsche Universal-Film AG, under the direction of Pasternak. This unit produced three to four films per year until 1936, migrating to Hungary and then Austria in the face of Hitler's increasing domination of Europe. With the advent of sound, these productions were made in the German language or, occasionally, Hungarian or Polish. In the United States, Universal Pictures did not distribute any of this subsidiary's films, but at least some of them were exhibited through other, independent, foreign-language film distributors based in New York, without benefit of English subtitles. Nazi persecution and a change in ownership for the parent Universal Pictures organization resulted in the dissolution of this subsidiary. Pasternak returned to Hollywood in 1936 with director and friend Henry Koster. It was then he had the great fortune to meet up with Deanna Durbin who proved to be his greatest star!
CLICK HERE
Last edited by English Crusader on Sat 17 Sep 2016 - 9:05; edited 31 times in total

Maestro

**** ADMINISTRATION ****






JOE PASTERNAK MEETS DEANNA DURBIN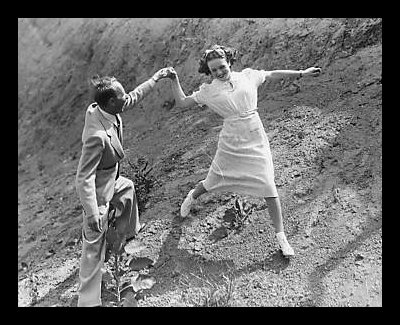 After our interview with Charles Rogers, Henry Koster and I got the go ahead on the script of THREE SMART GIRLS. For a time after our arrival at Universal Pictures, Koster and I had thought that our troubles would be over if only we could get a picture to do. Now we found that our troubles had just begun. We had a script and approval to shoot it, but who was going to play the leading role? What we dreamed of was a young Mary Pickford. The only way that would ever happen, I realized, was for a fairy to touch us with her wand. There didn't seem to be any fairies around the Universal lot. I was feeling pretty blue. First, we'd arrived and had been told we were fired. I fought that and won. Then we had to live in an atmosphere where nobody believed we could work up an acceptable shooting script. We got one ready and it was accepted. And what did we find? We needed a twelve-year-old girl with the indefinable charm of the girl who was once rightly called America's sweetheart. That's all. The plain fact was, everybody told us, there was no such creature. Koster and I talked over the possibilities. Dejected, we decided we'd have to change the story and make it about a twelve-year-old boy. We both grimaced at the title, THREE SMART BOYS. For some reason it sounded ridiculous. "Why don't we go back to Europe?" Koster muttered. "Don't worry. Something will turn up." Sure enough, it did. We found a benefactor in the person of Rufus LeMaire, who had just come over to Universal as casting director after many years of service at MGM. I called on him and told him our problem. LeMaire grinned. "I think I know just where to find such a girl. In fact, you can have your choice of two." My voice cracked. Here I was, asking for another Mary Pickford and this man says there are more than one. "Over at MGM they've got two kids under contract. They both have tremendous possibilities, I think. I'll get the film and run it for you. I'm pretty sure they're dropping one of them." I could hardly wait until the next day when the film arrived. Everything LeMaire said was right. The girl was warm, lovable, natural, charming. She sang in a way to win your heart. "That's the girl," I shouted when the lights went up in the projection room. "What do you say, Henry?" Koster agreed. We turned, beaming huge smiles at LeMaire. He kept swallowing, staring at us, unable to make a word come out of his mouth. "What's the matter, Rufus?" I asked. "Don't you understand? We like her, she's terrific. You can sign her." A thin stream of words finally came out of LeMaire. "Remember I told you they had two girls and were dropping one? This is the one they decided to keep." I fell into a chair and covered my face with the palms of both hands. LeMaire came up to us, his voice found, determined to cheer us up. "She's pretty good, this kid, huh, Joe? Her name's Garland, Judy Garland. I knew you'd like her." I then said, "Rufus, will you stop? What do I care if her name's Fifi LaFlamme? If I can't have her for my picture, what difference does it make?" LeMaire then quickly responded, "This other kid's good too. Let me ask the projectionist to run her film." I then said, "What's the use, Rufus? It's bad enough looking for one as good as that, and finding her. There aren't two, not in the same generation." LeMaire then said, "I think this other kid's great too, Joe. You're here. You might as well look." Rufus gave the signal to the booth. This was a singing test, but the moment the girl's face was flashed on the screen Koster and I sat up. Koster was sitting in the seat immediately behind me. He didn't say a word, just leaned forward and put his hand on my shoulder. The girl had a sweetness, without being arch or cloying. She was natural; she was pretty; she was wholesome; and she sang beautifully with a skill and ability far beyond her years. When the lights went up again, Koster and I couldn't say a word. LeMaire stood before us. "Before I say anything, is this girl free, can we sign her?" I demanded of him. LeMaire nodded. "Can she act?" Koster asked. "All we've seen here is singing. I don't care," Koster went on, not waiting to hear the answer, I'll teach her to act. She's wonderful." Koster and I threw arms around each other. Holding her mother's hand, Deanna Durbin (Edna May Durbin) came to the studio, shy, timid, scarcely willing, or able, to utter a word. We knew she could sing beautifully because of her test. She had some experience in radio, one or two guest shots, so we also knew she was a performer, however green. She wore a simple cotton dress that came to her knees, white socks, Mary Janes. Her hair was long, brushed out. Koster and I were pleasantly surprised to find her even prettier than her screen test had indicated. We knew that with a top flight cameraman, such as we would insist on, audiences would find her as beautiful as she was. We would always see to that. Because of her shyness and inexperience, it was decided that Koster should spend a week or two coaching her privately at home. He reported that she was coming along beautifully. All she needed was confidence. No one makes a star, of course; not the producer, not the director, not the writer. It is a matter of chemistry between the public and the player, and the player must come to the public, just as the public must come to the player to make her a star. Deanna's genius had to be unfolded; but it was hers alone, always was, and no one "discovered" her or can take credit for her. You can't hide that kind of light under a bushel. You just can't, even if you try. We knew Deanna was great from the time we saw the first rushes. But we had our problems. On the lot we were still dubbed the "shammas outfit." We were not regarded as pros in a business where there is no time or inclination for amateurs. We were holdovers from the old management. It was an open secret that the studio, stuck with our contracts, was letting us make this one picture just to get some work for all the money they were condemned to pay us. It was widely bruited about that after the flop which was sure to take place, we would be given our walking papers, contract or no contract. Naturally, there were also the theatrical know-it-alls, who flutter about the edges of every enterprise. They knew that the public hated child actors at what they assured us was "the awkward age." Shirley Temple was different. She was a mere child. But a girl of fourteen! She was nothing, neither child nor woman. Because of Koster's limited English, the studio management assigned a dialogue director to the picture. It was his job to make sure the lines were read in a natural American way. But every time Koster finished a scene we turned to find the dialogue director shaking his head. Koster and I exchanged panicked looks. The dialogue sounded good to us, real, natural, believable. But maybe we could be wrong? I'd been away so long, maybe I didn't have the common touch? The dialogue director kept shaking his head disapprovingly. Nothing Koster did seemed to please him. Finally I decided to find out for myself why the dialogue director didn't like anything. Soon I discovered the reason. "You know what?" I reported to Koster later. "He shakes his head because he's got a nervous tic. He loves what you're doing." Other problems involved integrating music into our story. For example, when someone played a piano and Deanna started to sing, we had an orchestra come in behind her. It was an old, proved device to us for Rene Clair had used it in his films and in countless pictures in Europe that no one minds. But some of the production people still said it was wrong. "Couldn't we have a band passing by her window?" they asked. "Where does the music come from?" I then insisted "that it would be a coincidence. The music comes from the heart, so everybody hears it." Deanna was the girl who could sing from the heart, no question. While we were making the picture, she started to sing regularly on Eddie Cantor's radio program. Eddie Cantor must, of course, be given full marks for first bringing Deanna's voice to the world on the radio. He heard her when she was an unknown and shared the thrill of his discovery with the vast radio audience. During the shooting of the picture, Deanna was frightened. And so were Koster and I. In fact, it doesn't take much sharpness to figure out why she was frightened. She caught it from the producer and the director. One morning Koster was shooting a scene with Charles Winninger. The action called for Winninger to sit abruptly on the piano keyboard. Winninger did it a dozen times, each time, however, anticipating his reaction before he actually touched the keys. Koster had to take the scene over and over, patiently explaining to Winninger that first he must hit the notes and then respond. Koster was ready to try it again when from the darkness of the stage we heard an imperious: "That's enough! No more!" It came from one of the studio's top executives, a gentleman who has since passed away so I will preserve his anonymity out of decent respect. He strode forward to the camera and the set. "You're wasting the company's money. Who cares if he's a second fast in his reaction? You're not in Europe now, you're in America!" We had our choice then and there to either knuckle down or return to Europe, after all our troubles getting started. Well, we're here, so our decision is fairly obvious. Protest, didn't do us much good on that first picture, but Koster and I resolved that if we came up with a hit, we'd never let a thing like that happen to us again. I knew we had a good picture when I saw the first rough cut. All the lack of confidence I ran into around the studio had undercut my own confidence a little so I wasn't sure that THREE SMART GIRLS would be a hit. But Koster and I were sure that if we had made this picture in Hungarian and German, we would have come up with a successful picture. How the American audiences would take it, we didn't know. Around the lot the general feeling was that the music was too "highbrow." But we felt Deanna sang so simply, so beautifully, that she wiped out all distinction between "popular" and "serious" music, which is as it should be. Well, the picture was successful beyond our fondest dreams. Naturally, Koster and I were assigned at once to do another "Durbin picture," as they came to be called. We came up with a story about the daughter of an unemployed, down-at-heels musician who gets Leopold Stokowski to conduct a symphony orchestra composed of unemployed musicians. Deanna was superb. I am theatrical enough to appreciate temperament. Do not consider temperament a failing among the people of stage and screen. Save us from the day when the players of the make believe world are as even dispositioned as bearings inspectors on an assembly line. Winning confidence in herself, getting to know her profession as an artist, demanding the perfection from her co-workers that she must have herself marked the emergence of our girl into a real star. And we never again gave Deanna, or anyone else, cause to be afraid, or to doubt that we were fully responsible for the pictures we made. The next time the gentleman who had interrupted the scene with Charles Winninger came on the set, he said not a word and kept mouse quiet, like any other visitor. That gave me all the satisfaction (revenge) I ever needed. I knew why he was keeping that quiet and he knew I knew. It was enough for both of us. I had approached Leopold Stokowski with a certain amount of timidity, as I shall relate somewhat more fully later. You can imagine my consternation at a rehearsal one day when I heard Deanna break off her singing sharply and announce to the great conductor in firm, unshaken tones: "You're not doing it right, Mister Stokowski!" Stokowski waved his hands for the orchestra to stop. A terrible hush descended on the players and everybody else on the recording stage. I moved up discreetly to be handy when the full weight of the maestro's anger fell on the child. Stokowski descended from the podium and walked toward Deanna. "How am I not doing it right?" he demanded coolly. "It's just not right," Deanna said. "Oh, it isn't, is it?" Deanna immediately replied with "No." Just no. Not sir, not maestro. Just no. I had dizzying visions of the whole picture falling apart, of Stokowski walking off, refusing to have anything to do with a fifteen-year-old child who dared tell him about music. But Stokowski smiled suddenly. "Tell me how you would like it done, my dear," he said simply. He was big enough so he didn't have to fear losing face by accommodating himself to Deanna. I've always taken that episode as a sign of their common greatness. Stokowski, who wasn't afraid to listen to a young girl, and Deanna, who already knew what was right for her and insisted on doing it that way even if it meant taking on the conductor of the Philadelphia Orchestra. Deanna was learning how to be a movie star. Of course there are movie stars and movie stars. And when I say Deanna was learning to be one, what I mean was that she was learning how to project herself. That was an important step in her development as an actress and I was delighted to see it happen. Once I got a call from a troubled assistant on the recording stage. Deanna and a big studio orchestra had been working all morning and the girl hadn't got a single song right. The costs were mounting up horribly. The rain was coming down in the proverbial buckets, as it does in Southern California when it decides to rain. I got to the recording stage to find Deanna sitting alone in a corner, wretched and spiritless. "Are you all right, Deanna darling?" I asked her. "No. I feel sad. All that rain. I don't feel like singing when it's raining." It was easier to call off the recording session than the rain, so I ordered the former. Besides, I was secretly pleased that my star was showing some "temperament." But Deanna never did show to me the wild moods and flashes of temperament of many stars, most of whom have never even begun to achieve the greatness that she won with the public at the box-office. Her pictures were responsible for transforming a studio then suffering from repeated attacks of passed dividends, nervous bankers, and changes of management, and putting it into a healthy, sound condition. Instead of bankruptcy, Universal faced a bright future. Our salesmen could sell the studio's product simply by promising to deliver to the exhibitor a certain number of Deanna's pictures. Did that have its effect on the character of the young, still growing girl? Did she become insufferable, conceited, spoiled? Did she make life intolerable for the grown-ups around her? The answer is a flat and absolute negative. When I worked with her, she simply didn't know that hard headed bankers and businessmen traded in shares of Universal Pictures, because of her. That people by the tens of thousands depended on her for a living. She was in every way a healthy, normal child, who happened also to be a movie star. There was only one matter in which she insisted on having her own way. I discovered to my horror one morning that my star's breakfast consisted of French fried potatoes liberally doused with ketchup. If she'd insisted on having Algerian strawberries flown in by chartered airplane, it would have been something I could appreciate. But French fries and ketchup. It was unstarlike! I absolutely put my foot down. Besides, I insisted, it was bad for her digestion and her figure. She was equally firm. "No French fries and ketchup for breakfast, no work." It was my idea that Deanna would be an example for every girl to look up to. She would be dressed as a girl of her years should dress. Her growth would not be forced. I knew that some of our greatest actresses were playing adult roles by the time they were sixteen, but I didn't want that for Deanna. When she was sixteen, she would play parts suitable for a girl of that age. After all, the difference is that the public knew Deanna from childhood, watched her, copied her, and identified itself with her. The mail that crossed my desk in bagfuls always pleaded that she be kept sweet and natural. There were the others, but they were mostly professionals, and I felt, to put it simply and bluntly, they were wrong. Deanna herself went out hardly at all. Her birthdays were occasions for simple parties. She was considerate and respectful of her parents. And they, for their part, let me handle her career as I felt she should be handled. The one exception came when, to my surprise, I was called into the executive offices late one afternoon. I found that strange because several of our pictures had done exceedingly well at the box office, there was a new management at the head of the studio, and gone were the days when we were called the "shammas outfit." The bosses usually came to see me. I arrived to find Deanna's father, with whom I had always had the warmest relationship, in obvious battle position beside a squad of corporation brass. Matty Fox, their spokesman, obviously embarrassed at the task, spoke haltingly, beating about a variety of bushes. "Matty," I said, "I know it pains you, whatever you have to say, but why don't you just say it and get it over with? What's up?" Matty coughed. "Mr. Durbin here has been on the set the last few days and frankly, he thinks Henry Koster is favouring the other people, and well, he's not doing all he should for Deanna." I looked around and said, "You're kidding?" Matty responded with "No, Joe. That's the way Mr. Durbin feels." I could not help feeling sorry for Matty who, like myself, regarded the whole business as extremely distasteful. Even Mr. Durbin, now that it had been aired, didn't seem happy about it. "I think we've done fairly well by Deanna," I said. "There's no question that we've handled her well so far?" I looked around again. "As for the shots you speak of, I don't know what school you went to, Mr. Durbin. I'd like to go there if all you have to do is watch a director work and be able to tell how a picture is going to look when it's cut." Matty interjected and said, "Oh, he didn't mean that." I then went on saying, "Whatever he meant, it seems to me our relationship has been based on mutual esteem and respect, and if there's any question about slighting Deanna." Mr. Durbin looked embarrassed saying, "Oh it isn't that. I'm sorry I brought it up." Suddenly we all looked at each other and grinned. I put out my hand to Durbin. "Why can't we behave like movie stars now and then, especially since we've got the biggest one in the whole wide world?" The only reason for recalling that isolated incident today is that it is the only one like it in five years of my association with the Durbins. As Deanna herself grew older we had our differences, but they were small and easily resolved. They were the kind you must expect among creative people working together to do the best job each knows how. They might have had to do with something as petty as which hat she should wear in a scene. Those difficulties were so trivial I cannot for the life of me even remember what they were today. I had some differences with management first, and later with Deanna, about her roles. I insisted that Deanna was one of those personalities which the world not only takes to its bosom but insists as regarding as its personal property. We dressed her, as I said, with great consideration for her position. The occasion of her first screen kiss was as significant to us as it was to her audience, as must be the first kiss of any girl seventeen-years-old. We instituted a veritable GONE WITH THE WIND style search for the right boy. Robert Stack finally won it. A million words must have been written on the subject. I do not contend there were more weighty matters at the time. But it is proof, I think, of the interest that every stage of Deanna's development held for the world. There was, as I started to say, a difference of opinion about what we should do. I remember one afternoon being braced by a party of exhibitors to permit Deanna to take a "sexy" role now and then. "After all," they said, "isn't it smart to throw a change of pace? And she isn't a little girl any more. She's a young lady. She's not much younger than girls we see on our theatre screens every day, playing love scenes. "Not while I have anything to do with her pictures," I said. "I think you're wrong. If you try, you'll do no one any good." Deanna herself, as she grew older, began to grow restive. I can understand her point of view. She would go to the movies and see girls not much older than herself playing vixens and hussies. Some of the critical gentry, out of a perverseness which I quite appreciate because it certainly makes for better copy, called for an end to "sweetness and light." No nice girl wants to be considered "nice" anyway. So Deanna champed at the bit. I did my best to persuade Deanna. I reminded her she was only seventeen and that there would be many years in which she could play heartless wenches, if that was what she and the public wanted. But right now, I insisted, it would not work and I certainly would be no part of it. Working with a great star, making a succession of successful pictures, it was inevitable that someone, some bookkeeping executive, would try to separate the elements that went into the team's pictures. Koster and I never gave it a thought, but some business genius in a front office conceived the idea that if they separated us they might be able to get twice as much for their money. Besides, just what was the producer contributing? He simply happened to bring along from Europe the director who was "responsible." They assigned Koster to do another picture for another producer and it brought on a painful sequence of events for us both. I could not help feeling that I was being cut off from my support, my team; yet I knew Koster was too splendid a talent to limit himself to one genre of filmmaking and one producer. I may have felt that as time went on, we'd branch out. I don't know. I have to be honest since I am telling the story of my life. I was hurt that Koster did not stay with us to direct the third and fourth Durbin pictures. But if the accountants and the corporation Blackstones had any doubts about what the producer was contributing to the continued Durbin successes, they soon began to lose them. MAD ABOUT MUSIC and THAT CERTAIN AGE not only were liked by the critics; the public supported them vigorously, too. Since I am being honest here, I have to confess that my battered ego was well bolstered by that. Nevertheless I learned a lesson. It was entirely proper and in the nature of things that Koster and I go our own ways. It hurt at the time, as those things often do, but it happened for the best. Koster, Deanna, and I made pictures together afterward, three more to be exact, right up to the last one, IT STARTED WITH EVE. Deanna was eighteen when talk of marriage first reached me. Her mother and I discussed it and I did not think it wise. "Of course she will marry some day, and maybe soon, but I don't think it ought to be now," I offered. "To the world outside the studio Deanna is the normal, healthy everyday girl, the charming kid next door. But has she ever had a real childhood? She's worked hard, really hard, during all the years that other girls play. You know what I think she misses? A chance to be a girl just like every other girl. She hasn't been able to do all those things because she was working. But marriage, she's too young, she hasn't lived enough yet to be married. Why don't you let her travel for a year? Take her around the world. All she knows is Hollywood and the way to the studio. Give her a chance to see what other people are like." But I wasn't convincing anybody. Since I was unable to make a secret of my attitude toward her marriage, it was inevitable that Deanna's impending marriage would complicate our relationship. Vaughn Paul was a second assistant director, a young man of great promise and evident ability, attractive, well spoken. Actually, in every way he would make the ideal husband for Deanna. He came from a good family, worked hard, was young. The couple appeared to be very much in love. But when Deanna came to my office and said that on her next picture why didn't we have her prospective bridegroom's brother, who was a cameraman, photograph her, I had to be very firm. I had made a promise after seeing her first test that the cameraman who photographed her would always be absolutely top notch. Rudy Mate and Joe Valentine had always been entrusted with this task and they were both artists of the finest stature. "I won't do it, Deanna," I said. "Not that I have anything against this man you suggest. I don't know him. He may be great. I simply won't take a chance, that's all." On April 18, 1941, Deanna became Mrs. Vaughn Paul. It was a church wedding and the way it was handled indicates a good deal about her character. The church was not filled with film notables, as it could easily have been. Deanna invited all the people she had worked with in her five years in pictures. There were carpenters, electricians, sound and camera men, grips and gaffers. The publicity department, with its usual cold heart, wanted pictures for the press of the world, but Deanna insisted there would be no movie hoopla. She was married beautifully and quietly, and I'd be a liar if I didn't own there were tears in my eyes. When she returned from her honeymoon, we started our last picture together, IT STARTED WITH EVE. By that time I knew I was leaving the studio. Deanna did not know. I called her into my office and told her why it had to be and why I was leaving. It was the only time in our years together I saw her weep. "You can't," she said. "You can't do this to me." But I had my personal reasons, and they did not all concern her and I said I must. It was not easy to talk to her because a lot of water had flowed under the bridge. She had her life to live now and it could not be the same as before. She said some nice things and ran out of the office. I did not see her again for three years. By that time she had had a baby, been divorced, and had married Felix Jackson. We had a pleasant evening, talking about everything in the world except the past and pictures and ourselves. And then I did not see her for a long time once more. At last, when I saw her, she had found happiness. She had married once again, for she had found herself, and when I saw her she was radiant, beautiful, glowing with the youthful charm which she always possessed. She married Charles David, a French director, she lives in France, and she is really happy. When she came to America the last time, the papers were full of gossip that she and I would make a picture together. "I don't think they want to see me anymore," Deanna said, and she was still a girl, hardly out of her twenties. "Darling, you amuse me," I had to tell her. "You talk about the audience as though they get finished with people and throw them away like a child's old toy. I'll tell you one of the few secrets I've learned from the theatre. The public is never 'through' with a star. It's always the star who is through with the public. People say there's a new generation of movie patrons and they don't remember the great stars of last year. Maybe. But, listen, the thing that made the audience of last year love you will make the audience of this year love you because they are average people and people don't change much." It was quite a speech and I meant it. She wasn't sure then, but I told her that all she had to do was say she wanted to come back and I would be there to produce a picture starring Deanna Durbin. Greatness does not fall from a true star like a cloak. It is in the very marrow and bones of their being. And Deanna can never lose what God has given her. One day, I hope, she will call me and say, quite simply, "Joe, I'm ready." That will be all I need to know.
Last edited by Maestro on Sat 20 Jul 2019 - 9:45; edited 18 times in total

Maestro

**** ADMINISTRATION ****






Every Deanna Durbin movie produced by Joe Pasternak was a box-office winner!!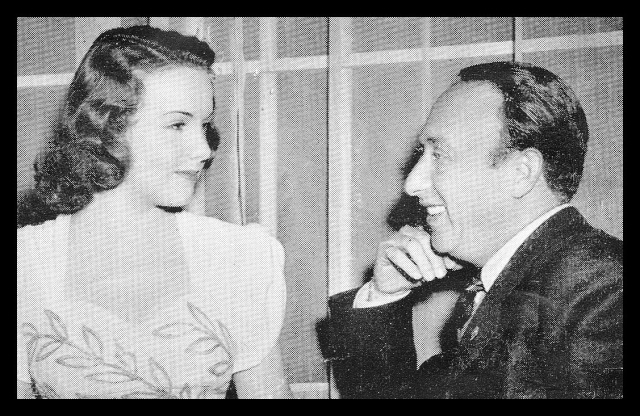 The problem of keeping normal in Hollywood is not an easy task for any movie star including Deanna Durbin. Poised as a veteran, prettier than ever, she arrived for an interview clad in rosy tweed. "I believe in keeping a perspective of yourself when you are a sudden success," she said, thoughtfully. "But I may get my head turned yet. Who knows? Just now it seems clear that what happened to me in pictures could happen to anybody. It may be over as suddenly as it began, and then I'd be back at school with the other girls. And how silly I'd feel if I had gone high-hat over it. I couldn't even go back to my own classes, because I've lost a year and a half since I went into pictures. You see, I have so much to do outside of school that I can't keep up with girls who do nothing else. I have a voice lesson every day, and I've done a lot of radio work as well as my screen plays. When I'm not making pictures, I have to learn and record songs. If I were an older and more experienced singer, I could have worked up a repertoire, so that I could say, 'We'll sing this and that here and this group there,' and I'd know the music. As it is, I must learn each one new. I want to learn German, French, and Italian, so that I can sing with ease in any language. Now, when I sing a German song, I must learn each word, what it means, and what the whole song means first. I like pictures. I have fun making them. All of us have fun, although we work hard. I don't miss going to parties because I'm usually so tired I'm glad enough to go to bed when I'm working. And I do go out a little. I gave a party myself, planned the menu, arranged the decorations, chose the flowers, and my dress. We danced. Kids this age like dancing better than anything else." The waitress appeared at that moment with a plateful of pennies. "Mr Pasternak sent these to you, Miss Durbin. He says he missed giving you one the last nine days and the other is for tomorrow, when he'll probably forget again," she said. "Thank you." Deanna counted the ten pennies and put them in her purse. "My name is 'Penny' in THREE SMART GIRLS GROW UP, so I get a penny a day from my producer," she explained. "But I never have time to spend it." Deanna then turned to her producer asking him, "Oh, Mr Pasternak, have you seen the rushes?" He nodded, gravely. "The shadows in the water were very good. Very good indeed. And the apple looked quite wonderful. You were there, too, I believe. But that apple was remarkable. I shined it myself. I thought I did a remarkable job on it." Deanna hit back with, "Is that so? Why don't you go into the apple business?" Now that was an example of the fun type of working relationship Deanna Durbin had with Joe Pasternak.
Last edited by English Crusader on Sun 22 Jan 2017 - 6:03; edited 18 times in total

Maestro

**** ADMINISTRATION ****






Deanna Durbin & Joe Pasternak on parade:
Last edited by Devotee #1 on Tue 8 Apr 2014 - 8:58; edited 2 times in total

Maestro

**** ADMINISTRATION ****






Joe Pasternak helps Deanna Durbin celebrate her 19th birthday: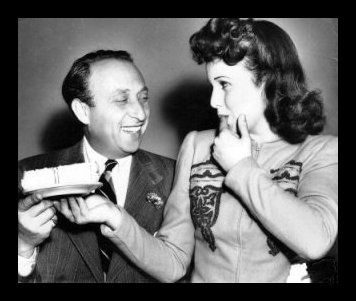 Last edited by Devotee #1 on Fri 7 Mar 2014 - 7:54; edited 1 time in total

Maestro

**** ADMINISTRATION ****






Deanna Durbin with future husband Vaughn Paul meet with Joe Pasternak:

Maestro

**** ADMINISTRATION ****






Deanna Durbin with Joe Pasternak and his new young star Gloria Jean: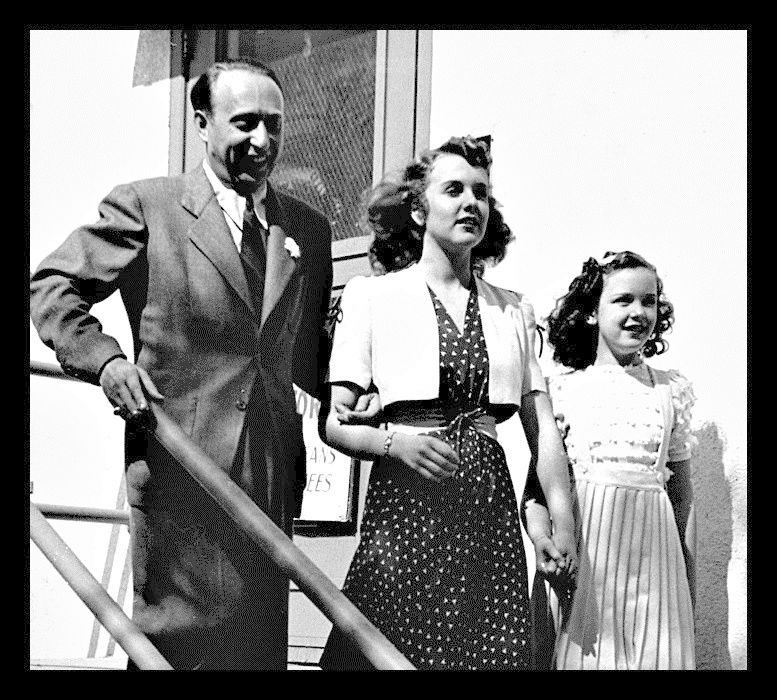 Last edited by English Crusader on Sat 21 Jan 2017 - 9:03; edited 4 times in total

Maestro

**** ADMINISTRATION ****






Deanna Durbin visiting Joe Pasternak and Gloria Jean on the set of THE UNDER-PUP:
CLICK HERE
Last edited by English Crusader on Sat 21 Jan 2017 - 9:07; edited 3 times in total

Maestro

**** ADMINISTRATION ****






After Joe Pasternak left Universal for MGM, his dream was to get Deanna Durbin to join him. Originally he wanted to team her with Jeanette MacDonald in the 1946 movie called the TWO SISTERS FROM BOSTON, but sadly it never happened.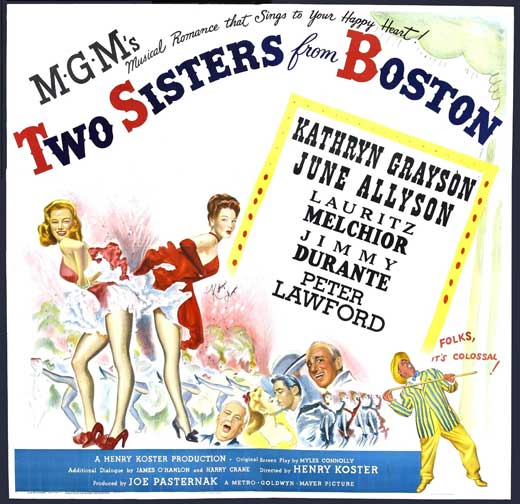 CLICK HERE

Maestro

**** ADMINISTRATION ****







Maestro

**** ADMINISTRATION ****







---
Permissions in this forum:
You
cannot
reply to topics in this forum