Edna May Durbin (Deanna Durbin) started singing at a very early age - she was a natural.
Her voice was a gift from God and people were blessed to hear her sing.
Little Edna May began singing lessons in 1932 at the Ralph Thomas Academy.
Last edited by Devotee #1 on Tue 16 Feb 2016 - 3:55; edited 11 times in total

Maestro

**** ADMINISTRATION ****






Here is a historic letter written by a dear old lady who remembers a very young Deanna Durbin:
"I have known Deanna ever since she was eighteen months old. From the age of two years she has sung beautifully. I can remember the many parties and gatherings we attended when Deanna was requested to sing and she was so tiny we used to stand her up on a chair so that everyone could see her. When she commenced to sing, a hushed silence would fill the room. Even at the tender age of two and three, little Deanna could hold an audience spellbound. She loved music dearly and every day when she came over to see me, she would have me play record after record on the victrola. She would sit there and listen with her big blue eyes looking into the distance, showing that her little mind and heart were truly in the words and the song."
Mrs. W. Smith (Los Angeles)
DEANNA DURBIN'S FIRST VOICE TEST:
Last edited by Devotee #1 on Sat 3 Sep 2011 - 20:30; edited 11 times in total

Maestro

**** ADMINISTRATION ****






Edna May enjoyed singing
Drink To Me Only With Thine Eyes
:
Drink to me only with thine eyes
And I will pledge with mine
Or leave a kiss within the cup
And I'll not ask for wine
The thirst that from the soul doth rise
Doth ask a drink divine
But might I of Jove's nectar sip
I would not change for thine
I sent thee late a rosy wreath
Not so much honouring thee
As giving it a hope that there
It could not withered be
But thou thereon did'st only breathe
And sent'st it back to me
Since when it grows and smells I swear
Not of itself but thee
Edna May also sang the following songs:
Giannina Mia
,
Sylvia
,
A Brown Bird Singing
.
Last edited by Devotee #1 on Sat 3 Sep 2011 - 20:26; edited 8 times in total

Maestro

**** ADMINISTRATION ****






A clever mathematician estimated that the average Deanna Durbin song gave 3 minutes of melody and consumed 12 cups of coffee, 48 cigarettes (not hers for she didn't smoke), 5 pieces of chalk, 550 feet of celluloid, 776 working hours of 97 specialist people!!!
For the movies, Deanna's songs were recorded separately and then synchronized with the motions of her mouth.
Last edited by Maestro on Fri 19 Jul 2019 - 8:53; edited 6 times in total

Maestro

**** ADMINISTRATION ****






Henry Koster and Joe Pasternak knew that Deanna Durbin was a singing sensation!!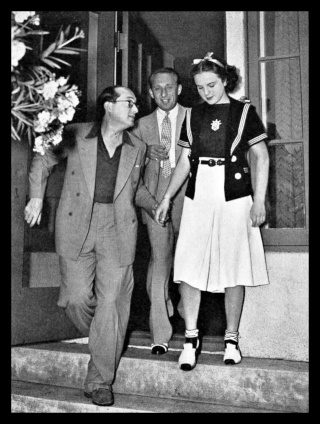 CHARACTERISTICS OF THE VOICE OF DEANNA DURBIN:

Abdominal Breathing:
She breathes and controls her voice by working her abdomen. That conditions the next characteristic.
Relaxed Posture:
She is relaxed from the shoulders up with little to no tension in the neck, or about the face. She does not grimace on difficult passages. Sometimes the eyebrows rise in sympathy with high notes and the forehead knits up, but the only thing that constantly moves is her Adam's apple. She does not heave her chest - expand her ribs - to breathe. Hence, the shoulders remain still and tension free. She makes effort seem effortless; art, artless.
Clear Intonation:
Her voice exhibits an unusual clarity, with tones so exquisitely pure that they can be ear splitting - ringing - when loud. Even in childhood, her voice filled a room.
Unobtrusive Vibrato:
The pleasing shimmer of her vibrato finds a harmonic within the listener. There is no tremolo - a machine gun like pulse in the voice - and her vibrato is not supplemented by obvious oscillation of the tongue or jaw. In loud operatic singing the voice must be pushed - the vibrato naturally widens; the result is less pleasing. Durbin's voice may lack the heft of a full dramatic soprano, but she was a light lyric soprano or spinto soprano and no bigger voice could be judged more beautiful.
Comprehensible Diction:
She works hard to enunciate the lyrics, but at the same time to maintain a natural sounding speech. That is perhaps her most exceptional technical skill.
Tactical Dynamics:
She very intentionally picks the places in a song to raise or lower the volume for emotional emphasis. Often the loveliest passages of her singing are those where her voice softens in decrescendo. Many singers make the mistake raising their volume on all high notes, which interrupts the consistency of the song. With Durbin any forte emphasis is always right, always balanced, always part of a whole.
Golden Voice:
The timbre, or particular sound, of her voice is its greatest asset. It is warm, sweet, maternal, yet always strong and sure, never frilly or reedy. Her voice is not "brushed" with any shrillness. Sometimes the ancient Greeks described their orators as chrysostom, literally, chryso - 'golden' and stomos 'mouthed' - "dropping words of gold" according to the Liddell-Scott Lexicon. So, we have Dio Chrysostom and Saint John Chrysostom. "Golden-voiced" is perhaps the most common and the definitive attribute of Durbin's singing.
Careful Craftsmanship:
Her presentation of a song is a complete work of art. It hangs together; it's all of a piece. That is what endeared her to cellist Msitslav Rostropovich. He famously said, "I tried to create the very best in my music to try to recreate, to approach her purity." What a critic once said of Dame Isobel Baillie can be said of Durbin: "I have seldom heard a singer come nearer the ideal of perfectly simple, calm presenting of the music, which is the chief mark of a great musician."
Respectful Service:
She was always the servant of the music, never its mistress. There is no Durbin "brand" of music with a particular styling such as breathy aspirations, singing nasally, emotional bleating (tremolo), creaky voice, or singing slow. Again, what was said of Dame Isobel Baillie can be said of Durbin: "sound musicianship…secure technique…serves both the music and words with rare and thorough integrity."
Last edited by Devotee #1 on Thu 11 Jun 2015 - 10:01; edited 9 times in total

Maestro

**** ADMINISTRATION ****






Comment by Jeanine Basinger:
"Deanna Durbin's music was the deepest source of her intimacy with her audience. The happiness with which she sang, the charm of her voice and the warmth with which she interpreted lyrics took her out of the frame and put her in touch with viewers. Her numbers were solos that she seemed to sing to each individual. She had the ability to connect, to create some secret pocket of existence that individuals in the audience thought that only they occupied."
Comment by Ethan Morrden:
"Of all the post-Laemmle stars during the Studio Age, Deanna Durbin was the most lucrative. Like Maria Montez, Audie Murphy, the Kettles and Abbott and Costello, Durbin worked within straight format. Durbin's vehicles stand out from all other Universal series by nature of their distinguished casts, again with much freelancing and borrowing. Obviously, Universal was extending itself, celebrating one of the few times it had hit upon a unique form. Durbin must be the only musical star who went through twenty-one films, all for Universal only very rarely sharing the musical honours with anyone. Nor did Durbin have the advantage of the high-toned Broadway masters RKO gave Astaire and Rogers, or that MGM gave Freed's people, or that Fox used in its story musicals. Only once did Universal go for it, on CAN'T HELP SINGING, with a new Kern-Harburg score of six numbers, plus baritone Robert Paige and an eager chorus. Durbin's sole all out musical."
Comment by Sheilah Graham:
"To Deanna Durbin must go most of the credit for making Hollywood "adolescent conscious." Her unusual singing voice and acting ability registered a phenomenal hit with her initial film, THREE SMART GIRLS. As a result of Deanna's unprecedented success "The Awkward Age" has been banished from the film vocabulary and studio doors are wide open to pretty girls with good singing voices."

Maestro

**** ADMINISTRATION ****







---
Permissions in this forum:
You
cannot
reply to topics in this forum